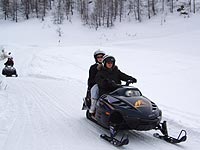 All of our excursions are in beautiful scenery, easily accessible for everybody, the pistes are prepared daily, they are signposted and the slopes are not steep. But there are more difficult pistes for experts.
Easy to drive, the snowmobiles take you to the most beautiful places in the Cervino valley, under the watchful eyes of our expert guides, who have in-depth knowledge of the area and have worked in this sector for many years.
All of our excursions include a stop at "Pian del Tasso", a little promontory at the centre of the valley, with a 360° view over the chain of the Grandes Murailles, the Matterhorn and the floor of the valley.
Here you can test your driving abilities around a circuit designed exactly for that, or those who are not quite so confident can try it out. An ideal place for taking photographs and making films.